Dear Dr. Skrobola:
Thank you for the phenomenal job that you did on Ricky's teeth. During our initial consultation I was very impressed with the thoroughness of your evaluation and the time you took with us to explain his condition. I appreciate that you went the extra mile to explain the research to us. Our experience with your practice was outstanding! Your office staff was exceptionally helpful, caring & compassionate. The appointments were always convenient and prompt! I was also impressed by the technology in your office.
Kim & I were very concerned that Ricky was so young and seemed to have so many issues with his jaw & teeth that his condition would not be correctable. But in such a short period of time we are completely amazed with the results! We have received many compliments about Ricky's beautiful smile; thanks so much! We enthusiastically recommend you to all our friends & family. We look forward to having you work with our younger son Andrew.
Sincerely,
Dr. Rich Gennaro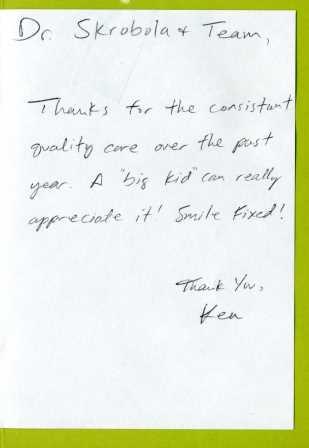 Dr. Schlosser is a wonderful orthodontist! I am a 40 year old woman and I had braces when I was younger but over the years my teeth started to get a little bit out of alignment. I went to see Dr. Schlosser at Bracesetters and he gave me Invisalign. This worked perfectly for me. It was so easy and now my teeth are straight and look great! I highly recommend Dr. Schlosser and his team at Bracesetters. ~Kim H.
From our very first visit with Dr. Schlosser, I knew we were in great hands. My children were greeted warmly and welcomed, like new friends and patients, not just new case files. Dr. Schlosser discussed with me the game plan, which included panoramic x-rays and some waiting for teeth to fall out. There was no aggressive plan of action or sales pitch. Usually revisiting at a 6 month point, we discussed where we were headed and then came time for the braces to actually go on. All visits after that were a breeze! Office staff is terrific – always smiling and great with the kids. Appointments were always easily booked and the office is very reachable. Dr. Schlosser is an absolute perfectionist in his craft. Toward the end of my son's treatment, there were some minor adjustments to get things perfect. He took the time to talk to my son and let him know a few more months were worth it to come out with a flawless smile, which he did. He also did the same for my daughter and is about to start treatment on my next daughter. He is always there to answer questions and concerns. The bottom line is that Dr Schlosser goes over and above what is expected of a great orthodontist. Anyone who wants spectacular results should put their faith in him. You won't be disappointed! ~Cathy
Dr. Skrobola is my family's orthodontist. My oldest daughter had quite a complicated case, that took several stages of treatment to complete. During this time, Dr. Skrobola was consistently gentle, kind, patient, and informative. It is obvious that he wants his patients to have the best possible results, as does his wonderful staff. Together, they really take a team approach, and encourage their patients to do their part as well, to ensure success. My daughter's teeth look absolutely amazing!! In fact, she was voted "BEST SMILE" in her class! She was thrilled, and has had so many people comment about how beautiful her teeth are. When it became apparent that my other daughter needed braces, I did not hesitate to call Dr. Skrobola. There is no other doctor I would trust with such an important aspect of my child's health and future. ~Dena K.
We have been patients at Bracesetters since 2005. I myself had braces placed in June of 2005, my daughter Mckenzie had a palate expander placed in 2007 followed by retainer/head gear and then full braces placed in May 2012 and my daughter Sarah had braces placed in June 2011!! So we've been regulars to the Bracesetters office for quite some time! I have to say that while orthodonture isn't always a comfortable thing, Dr. Schlosser and his wonderful staff have always made us as comfortable as they can. They always explain what changes they are making at each appointment and talk to myself and my daughters with care and concern, and provide excellent instruction on use and placement of the rubber bands, head gear, etc. While the clinical staff work with each patient, Dr. Schlosser always makes the major adjustments and takes the needed time with each patient. Additionally, the administrative staff couldn't be more helpful! They are on top of it when it comes to the initial consultation and placement decisions, to making appointments around school and work hours and assistance with insurance and financial decisions!! Once, when my daughters retainer was broken in three different places (because of being stepped on by my husband!), Dr. Schlosser's talented staff were able to fix the retainer and make it like new in a very short time! I was amazed! We truly feel like part of the Bracesetters family and I highly recommend Dr. Schlosser and his staff! Thanks Bracesetters!! ~Gloria K.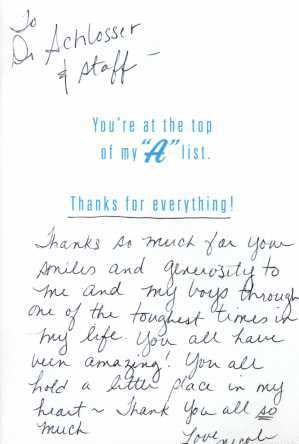 Dr. Skrobola,
Thank you for your terrific work! Our visits with you were always pleasant and quick. All of our questions and concerns where thoroughly answered. You and your staff were friendly and went above and beyond to ease Tommy's visits. Bringing home samples of rubber bands and wax was a great help! You always let us know what to expect which minimized any anxiety our son had, us too! Your locations are easy to locate and offices are beautiful! Thank you and your amazing staff for taking the extra steps to make Tommy feel special! Tommy's smile lights up the room!
Thank you very much!
~The Murrays
There is no other place for orthodontic care than Bracesetters. As an older patient they were attentive, compassionate and encouraging and the result!!! Awesome. No one can believe the difference these professionals have made in my smile and my overall appearance. Bracesetters, You Rock!!! ~Marge Bell
Thank you to Dr. Schlosser and all the hygienists for helping me get through having braces. I can't thank you enough. I will miss all of you! P.S. Thank you to Liz and Brenda for dealing with my last impression. I hope my impression was a big impression on you! ~ Andrada A.