Award Winning Orthodontists in Middletown NY!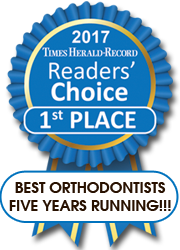 We are Drs. Michael Skrobola and Jonathan Schlosser and we'd like to welcome you to our four award winning orthodontic office locations in Middletown, Monticello, Newburgh, and Monroe, NY. We have been dedicated to helping children, teens, and adults find optimum oral health for over 35 years, and we also treat many of the area's dentists, hygienists, and other dental professionals and their families. With our reputation for personal, loving, professional care using today's leading edge techniques, we ensure that our patients receive the best possible orthodontic care.
Along with our excellent staff, we want you to fully understand every aspect of your treatment and why you are making such an important investment in your smile. We make sure you are informed every step of the way on your path towards a perfect bite and radiant smile. Some of the services we offer our patients are traditional braces, lingual braces, Invisalign®, Lythos, Simpli5, and Damon®.
We are also proud to announce the launch of our convenient and FREE app, which provides all of the information that our patients will need during treatment with us: